DEFINITION
Sciatica is the name given to pain in the lower extremity caused by irritation of the Sciatic nerve. (Longest and widest nerve in the human body.  It runs from the lower back, through the buttocks, and down the legs, ending just below the knee).
The term "SCIATICA" describes a symptom pain along the sciatic nerve pathway— rather than a specific condition, illness, or disease.)
EPIDEMIOLOGY
Sciatica is a relatively common condition with a lifetime incidence varying from 13% to 40%
It is most common in 40s and 50s age group
Women are more likely to suffer from chronic sciatica than men
90%  of cases are due to a herniated (slipped) disk
CAUSES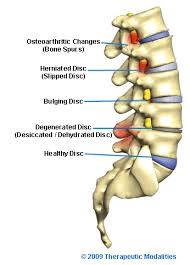 Lumbar herniated disc (Other terms used to refer to herniated disc are slipped disc/ruptured disc/ bulging disc/protruding disc/ pinched nerve)
Piriformis syndrome: Sciatic nerve runs under the piriformis muscle in the buttock. Piriformis muscle spasms and irritates/ compresses the sciatic nerve causing Sciatica
Degenerative disc disease A weakened disc results in excessive micro-motion at that spinal level, and inflammatory proteins from inside the disc become exposed and irritate the nerve root(s) in the area
RISK FACTORS
Age: Age-related changes in the spine, such as herniated disks and bone spurs, are the most common causes of sciatica.
Obesity: Increasing the stress on your spine, excess body weight can trigger sciatica.
Prolonged sitting:People who sit for prolonged periods or have a sedentary lifestyle are more likely to develop sciatica
Diabetes: This condition, which affects the way your body uses blood sugar, increases your risk of nerve damage.
SYMPTOMS:
 A "pins-and-needles" sensation

, numbness or weakness, or prickling sensation down the leg

Constant pain in only one side of the lower back, buttock or leg, but rarely in both sides
Weakness or numbness when moving the leg or foot
Severe or shooting pain in one leg, making it difficult to stand up or walk
Pain that feels better when patients lie down or are walking, but worsens when standing or sitting.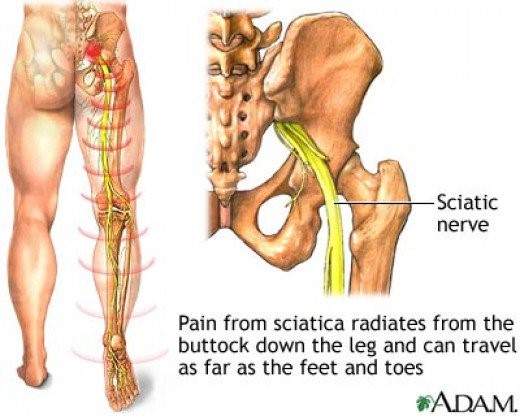 TREATMENT
A) Imaging Test
X-ray: Spine X ray may reveal an overgrowth of bone that may be pressing on a nerve.
Electromyography (EMG): This test measures the electrical impulses produced by the nerves and the responses of your muscles. This test can confirm nerve compression caused by herniated disks or narrowing of your spinal canal (spinal stenosis)
B) Medications for relief from Sciatica pain:
Anti-inflammatories
Muscle relaxants to ease muscle spasms
Corticosteroids help reduce pain by suppressing inflammation around the irritated nerve
Antidepressants for chronic low back pain.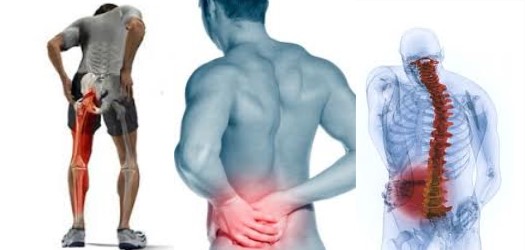 C)  Physical Therapy
Exercises to correct the posture, Core muscle strengthening to support the back and improving flexibility. Hamstring and Piriformis muscle stretching are important part of sciatica exercise program
Low-impact exercise programs like Yoga, Pilates , Ti chi have unique benefit of releasing endorphins (the body's natural pain killers) which helps reduce sciatic pain
D)  Surgery
Pain that is not relieved after non-surgical sciatica treatments such as oral/injections steroids, non-steroidal anti-inflammatory medication, manual manipulation and physical therapy treatment
 Urgent surgery is typically only necessary if the patient experiences progressive weakness in the legs or sudden loss of bowel or bladder control, which may be caused by cauda equina syndrome